10 Expert Tips To Fill the Online Matchmaking Show Profile
10 Expert Tips To Fill the Online Matchmaking Show Profile
Are you looking for your soulmate on the best matrimony site in India? To find the right one, you have to create a profile first. Opening an account matrimony site is easy, but creating a profile is a real challenge. Your profile will reveal the type of match you are looking for. All the details like hobbies, age, height, experiences and preferences will help the artificial intelligence of Online Matchmaking Show site filter out like-minded candidates. Moreover, the profile will ease the process for you to find the right one.
The primary concern of a match finder is " how to write a matrimony profile which is appealing? "Here are the suggestions to stand out with your interesting online matchmaking show profile:
1. Don't skip any details, fill in all sections
Firstly, go through the form and take your time to understand each question. Also, check out the comments written on the profile form of the Online Matchmaking Show. Don't be lazy or try to hide anything, fill all sections. The more you will fill in the details, the more your profile will look appealing to the prospect match finder. Also, it will help artificial intelligence to filter profiles based on the given information.
2.Good Profile Picture
Secondly, a photo tells a lot about you. An appealing profile picture on the best matrimony site in India creates an impression of honesty and self-confidence.
According to the best matchmaking services in India, you should focus on
Minimum 4 photos that show you in different outfits, and situations
Don't go for selfies or too professional looks. Upload full pictures
New photos and not older than 6 months
Photos that have your picture and not of food, car or motorcycle. Keep it real
The profile picture should be clear, not blurry or obscured by a hat, sunglasses or any other object.
Good lighting and not shady
Add one picture on the full-body shot. Rock your profile with that confidence.
According to the best matrimony site in India, one active candidate can get you more matches. One picture doing any activity – sports, painting or any activity that you do in regular life
Also, a big no for family or group photos. It is your profile, keep it like that.
3.Flex your Humour
Who wouldn't like to have a partner who can make an individual laugh all the time? Men and women both value humour as one of the most important traits when they are looking for a perfect match. To flex your humour on the online matchmaking show site, be creative while writing answers.
Also, don't try to fake it. Fake humour doesn't last long just like fake laughter.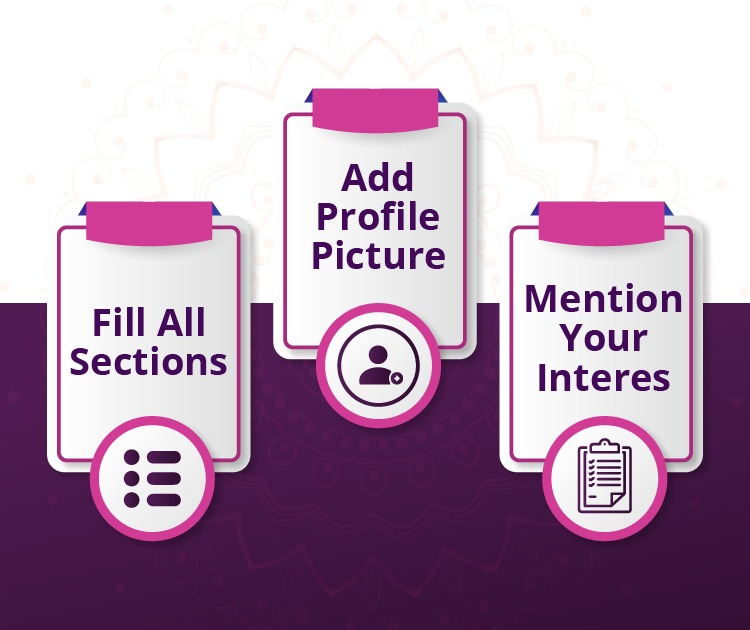 4. Keep Answers Simple and Short
Your profile description shouldn't be longer than a short paragraph and your response to all the questions should be in minimum sentences. No one would like to read a blog as per your description. Keep the answer creative and short.
You can try the art of storytelling while describing your experiences and interests.
5. Add Questions in Your Profile to Continue the Conversation
For your question about how to write a matrimony profile, mention your favourite activities in the profile and then end with relevant questions. This will give a hint to the profile viewer to begin the conversation without creating an awkward silence. It is like you are initiating a conversation even before the first interaction.
Questions you can try according to the best matrimony site in India:
"I love cooking and eating Asian cuisine. Likewise, What's your favourite food?"
"My favourite travel destination is Rome. Where's your favourite vacation destination?"
"I love comedic horror movies, like Beetlejuice and Little Shop of Horrors. Do you enjoy watching horror movies"
"I just finished reading The Kite Runner, and I loved it? Do you read, if yes, which is your favourite book?"
6. Mention Specific Interests and Preferences
Be an open book while creating your profile on the best Matchmaking Services in India. Mention all your hobbies, interests and passions. Remember, your profile and the information in it are going to create a picture in the viewer's mind of who you are.
Here are the few responses you should avoid while filling out your profile:
Don't say – "I love laughing", and share details about your interest and what activities you enjoy.
Don't say – "I like to read/watch movies or TV", mention the name of your favourite books, TV shows and genre.
Avoid giving diplomatic answers. Be clear with what you say.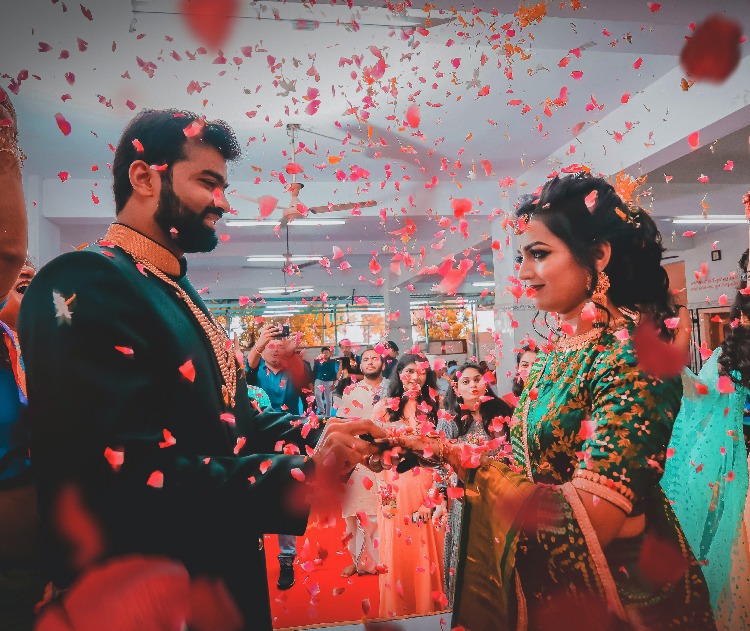 7. Sound Positive
Would you like to meet a person who has a negative approach towards life? Try to sound positive in the profile you are creating. Don't include negative words, and also avoid whining. Share your experience but with a positive approach.
Online matchmaking show profiles will be like wedding resumes and not a place to unload your luggage.
8. Proofread Your Profile
If you are done with creating your profile, go for proofreading. Grammatical mistakes, typos, and irregular format can be a real turn-off for some people. Find out the small mistakes, correct them and then submit the profile.
Don't be in a hurry, take your time before submitting the profile. As they say, the first impression is the long and last impression. Create an impressive profile on the best matrimony site in India. You can even take the help of a friend or relative for a second opinion.
9. Be Honest
"Honesty is the best policy" is not only a saying but the best advice while applying for the best matrimony site in India. AI will analyse and filter the other prospect profiles; so, share your real age, height, interests, profession, education, and accomplishments. Don't bluff; it will waste your and interested candidates' time.
Matchmaking online shows might eliminate your profile during verification after finding out that your details are not true. Use your real and latest photo and not some celebrity just to seek attention. If you fake your profile, people will eventually find out and might report your profile. Telling the truth is more comfortable. People prefer honesty while looking for their soulmates online.
Indeed, fake profiles on online matchmaking sites create trust issues among users and reduce the credibility of finding matches online. Little lies about height, age and appearance on online profiles can create big problems. Some serious liars include nasty catfishers, and profile stories to manipulate others for money, goods and sex. 
10. Focus on Language
Indeed, the type of information and content you are adding is important. But focus on the language. The information you are giving should be real and not be demanding as it can make a bad impression on the prospect.
Conclusion
Creating a profile on the online matchmaking show is nothing less than drafting a resume. Be attentive while creating your matchmaking profile. Don't be lazy to copy-paste things from the internet. Be creative with the words you use. After all, if you are looking for a life partner, you have to put effort into searching for one.
Go to The Matchmaking Show and fill out your form to begin the search for the "perfect soulmate".
Don't miss it out: Differences between Online and Traditional Matchmaking